Digital media can be divided into mainstream media and social media. Social media is very famous among youth. Different social media accounts, like Facebook, Twitter, Instagram, and many more, are available. Ifunny is also one of them. Like any social media platform, on Ifunny, people can make friends known as subscribers.
On Ifunny, people usually share memes in different ways. The memes are shared through images, videos, and gifs. Thus, it is an exciting platform for many. There are many reasons why you may need to delete the account on the Ifunny. You can delete the account within minutes. In this article, we will guide you on how to delete your Ifunny account. Just scroll down and keep reading.
What Is Ifunny?
Ifunny is a social media platform. You can access this content via the website or mobile application. You can share your content, like others, and even comment on others' content. Ifunny has its terms and conditions. One who follows those terms and conditions can keep his account secure. If felt, they can automatically delete the account or some content if it is against their guidelines.
Why Delete Ifunny Account?
Time management: iFunny can be addictive and time-consuming, so some people may delete their accounts to prioritize other activities.
Privacy Matters
iFunny collects and uses user data, which some people may find concerning. Consider deleting your account if you are uncomfortable with the data iFunny collects about you or how they use it.
Offensive Content
While iFunny is known for its humor, some users might find certain content objectionable or inappropriate. If you no longer see the content on iFunny as enjoyable or appropriate, consider deleting your account.
Personal Reasons
There could be a variety of reasons why someone may choose to delete the account, such as no longer having an interest in the platform, wanting to simplify their online presence, or wanting to distance themselves from a particular online community.
How to Permanently Delete Your iFunny Account in 3 Easy Steps
There may be many steps to delete the account. Different people may follow additional steps. But we will tell you the easiest step to delete the Ifunny account. You can delete them via the following given steps.
1. Contact The Support Team
First, you can just mail the app administrators and request them to delete your account from the web. To do this, find the relevant mail to send a request.
You can mail it to [email protected].
Step# 1 Write The Subject
The other thing is to write about the relevant subject. You should use a subject like "Delete My Account."
Step# 2 Body of The Subject
The other thing that comes is the body of the mail. Here you have to tell them why you want to delete your account.
It is essential to tell them your user's name and other relevant credentials. It will help them locate your account to verify whether ether belongs to you.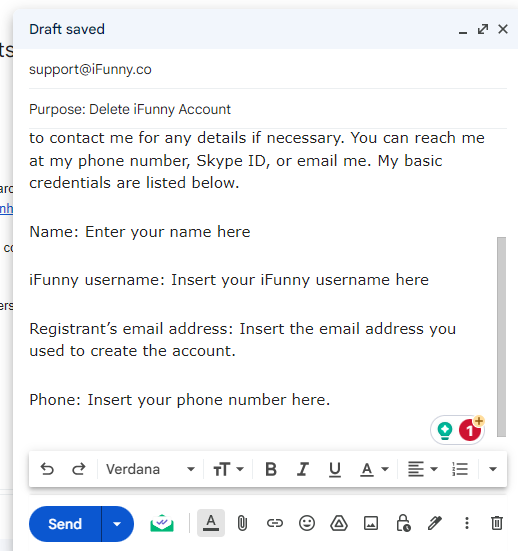 You may have to wait 2-3 days for the proper response from the administrator. They may also ask for some extra information. It will be easy for both of you. After proper investigation and verification, they will delete your account.
2. Delete By Your Own
In this method, you can delete your account by yourself. Just open your account and delete your Ifunny account. In this method, you will not have to wait long to delete it. Just follow the simple steps:
Open your app
Select your profile Icon.
Press the settings and privacy option here.
Find the data deletion request here and click on it.
After this, a notification will appear. Press create a request.
After this, the app will ask for your basic credentials. Just put them in the relevant places.
After that, click on "yes" to confirm the data deletion request.
3. How to Delete The Account In The Android and iPhone
The app is installed on Android and iPhone, where you create your account. If you want to delete your account, simply uninstall the app. Most of the apps do not support inactive accounts or it can cause Error Code 2207. After uninstalling the app, your account will be deactivated and automatically deleted by the team. Hence just uninstall it, and the account will be deleted.
To uninstall the iFunny app, follow the following steps.
Locate the app from your phone.
Press for a few seconds on the app icon
Two options will appear at the corner.
Press on the uninstall option, and the app will uninstall.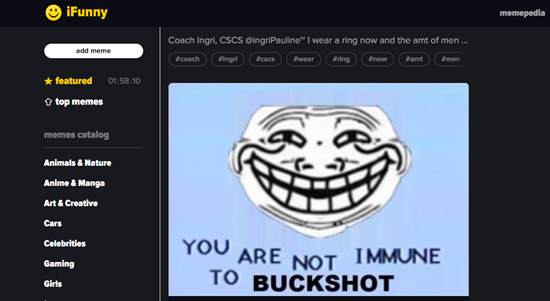 How To Avoid Spam Messages From IFunny?
On Ifunny, you may receive spam messages or notifications from different creators. In this case, you can simply unsubscribe from the emails and messages. If you are an Android or iPhone user, you can also mute notifications with the Ifunny app.
Conclusion
The world is of social media. On the one hand, there are benefits of social media, so on the other hand, its disadvantages can not be ignored. It is easy to use them wisely. Avoiding hate speech and being away from such accounts that spread hate speeches is the best option to do.
However, if someone forces you to indulge in irrelevant speech, you should block him. You can also delete your account for some days. And can reinstall after a few days. We have provided you with a complete guide on deleting your Ifunny account. Hope you will take them seriously. Just perform them carefully and your account will be deleted without much trouble.
Relevant Guides And Tips