Joom is a multinational e-commerce store selling a wide range of miscellaneous products. This fintech company operates mainly in Germany, the USA, Hong Kong, China, Riga, Luxembourg, and Latvia, having its headquarters in Latvia, Riga.
Joom can be accessed by mobile apps and websites that allow users to create profiles that store users' data like location, personal information, financial information, contact numbers, messages, etc. because of asking for this personal information; many users want to delete their account.
You're a Joom user who the recent Joom has hit! Security breach and you want to delete your account. The procedure is not easy. You have to manually change your password on all the other sites you use that share it, contact every site and service you have an account with, and change your password there too.
Use this complete guide on "How To Delete A Joom Account" to eliminate all traces of your joom Account in just a few clicks!
How To Delete A Joom Account?
You may face different account errors in your life. Deleting or deactivating the Joom account is a problem as it doesn't have any direct option that allows you to delete your account directly. Aish Ideas Team is here to guide readers step by step on how to delete their Joom account using the following ways.
1. Deleting Joom Account by Company Website
Their official website can delete Joom's account.
Go to the site www.joom.com and log in to your account.
Once you log in to your account, go to the bottom of the page and click on the privacy policy option. Here, find out how to manage your data.
Click on the delete data tab.
Once you click the delete data tab, a dialogue box will appear with a warning message that all your data, including order histories, personal reviews, and coupons, will be deleted, and you will be forced to sign out.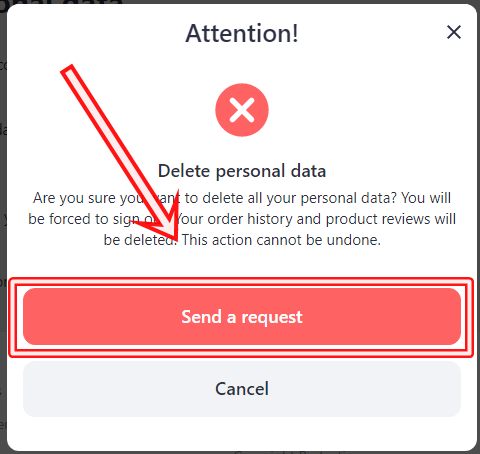 Click on send a request button on the warning dialogue box. It will send a request to Joom, allowing them to delete your data from servers.
Another dialogue box will open, asking you for an email so that the Joom support center can send you a confirmation email after they delete your data and your account.
2. Deleting Joom Account by Joom App
Install the Joom app on mobile and open the app.
Login to your Joom account.
On the bottom right of the screen, press the profile icon. This will open your account page. At the bottom of the profile page, find the option of Privacy and terms.
Tap the privacy and terms tab; four options will be displayed.
Press the personal information tab out of four options. This personal information tab can also be accessed by tapping personal data from the profile menu.
In Personal Information, again, four options will be displayed. Tap on delete data. A warning message will show: "Are you sure you want to delete all your data? You will be forced to sign out. Your order history and product reviews will be deleted. This action cannot be undone."
Tap on sending a request button. This will request Joom to delete your data and deactivate your account.
After pressing the request button, the app will send an email confirming that your account has been deleted. This email provision is not compulsory. Add an email account and press delete my account.
3. Deleting Joom account Via Customer Support
Joom accounts can also be deleted by contacting customer support service. Open the Joom website and click on the support tab on the top right corner of the page. On the support, the page scrolls down and finds the "Ask a question" button. It will open a dialogue box titled Contact Us. In the dialogue box, enter your name and email address, and in describing your issue box, write the request with the reason for deleting the Joom account.
If you have any file which you want to show to customer support services for the reason for deleting the account, you may attach that as well. Click on send, and your request for account deactivation will be sent. Joom customer care will contact the provided email to confirm the account's deactivation.
4. Deleting Joom Account by Sending an Email
Joom accounts can also be deleted by just sending an email to their support team. Users can send an email by opening a registered mailbox and composing a new email to [email protected]. In the subject, mention the account deletion request. Write a brief reason for account deletion and why you want to delete the Joom account, along with all data and information.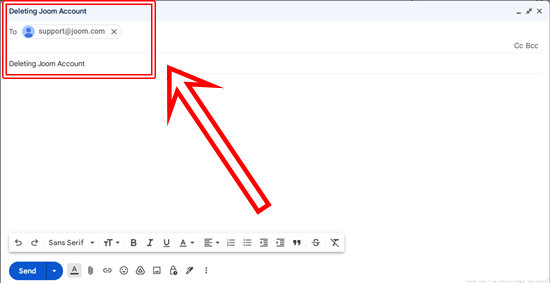 In the end, provide your Joom account details, including first and last name, registered email address, and contact number. You will be notified via the given email about the deletion of the account. Deleting a Joom account via email takes a few days. Once the account is deleted, the user cannot revert or recover the account information or any other information.
Conclusion
Multiple guides are available for creating accounts on different forums, including Joom. Therefore we have decided to choose a very rarely addressed topic, which is the deletion of the Joom account. We hope the readers will find it helpful and not get stuck in the deletion process.
Relevant Guides And Tips