Printing an email from Gmail can be a helpful way to keep a hard copy of important information or to share a message with someone who doesn't have access to email. Fortunately, Gmail makes it easy to print emails directly from your inbox. Whether you need to print a single message or an entire conversation, the process is simple and can be done in just a few steps.
In this digital age, printing emails may seem outdated, but it can still be a valuable tool in certain situations. In this article, we will walk you through the steps to print an email from Gmail, so you can have a hard copy in hand whenever needed.
5 Benefits of Printing Email From Gmail in 2023
1, Printing emails provides a physical backup of important information in case of digital device failure or loss.
2. A hard copy of a mail can be more convenient to share in certain situations.
3. Printing emails allow for more accessible annotation and note-taking.
4. Physical copies of emails can be a tangible reminder of essential deadlines or tasks.
5. Printed emails can reduce digital clutter and create a more organized workspace.
Print an Email From Gmail On the Desktop
You can copy the mail using the desktop within seconds. You can follow the simple steps to print the email from Gmail while using the desktop:
First of all, open your browser and enter gmail.com.
Then a page will open where you can add your credentials to log in.
You can type your mail and password to get a login.
After that, you need to open the mail you want to print.
To open the email, click on the mail.
After that, you can look at the top right corner of your mail window.
There will be the option of "print All." Click on it to print all the emails from Gami.
When you click on it, a pop-up will appear. You can confirm your action by pressing the save button option.
After that, your emails will be saved in your desired folder in your system, where you can print them easily.
This will lead you to imprint all emails from your Gmail. 
Print an Individual Message From an Email
If you want to print only an individual message from an email, follow the following steps. You may need to print the individual message from Voicemail on My Galaxy S4, so you should have the idea to imprint an Individual message from a mail. 
Open the mail account by putting your credential in the required files.
After that, open the conversation from which you want to imprint the message.
Then scroll down until you reach the specific message you want to publish.
Then click on the three dots at the top right corners
A new bar will open with multiple options.
Find and click on the print option there.
A new pop-up will appear. Click on the save button for the specific message.
This way, you can publish only one message from a single Gmail.
Printing an Email From The Gmail App (Android and iPhone)
The steps mentioned above are for printing mail or individual messages using mail on a PC or MAC. But if you use the mail on an Android device, the steps may vary from those discussed above by Email Address Generators. In this case, you may follow the below-given steps:
First of all, you must have the mail app on your device. After installing the mail app, follow the simple steps given below.
Open the mail app and sign in by entering the required data.
Then select the email to which you want to imprint.
Click on three dots icon.
There will be multiple options; click the option to imprint the messages.
If you use the iPhone, it may show you the AirPrint option. If your device is compatible with AirPrint, click on it; otherwise, you can cancel it.
Then select the compatible printer you want to use and click on the button.
After this, the emails from Gmail will be printed.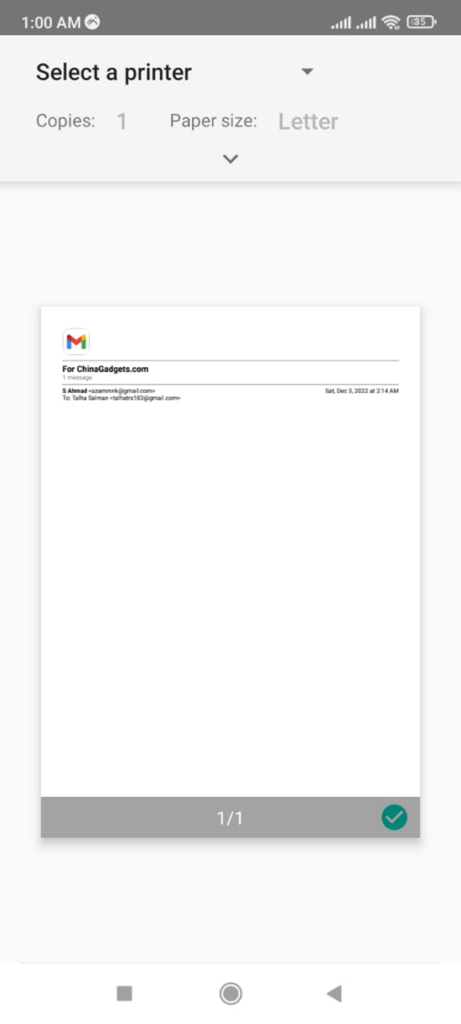 Can I Print an Email From My Phone?
Yes, you can copy a mail from your phone. In this case, you must install the Gmail app and a compatible printer to print the messages. Just enter the required information in the offer place while proceeding. So, you can easily publish the message from your Gmail using your mobile.
Conclusion
Printing an email from Gmail is a straightforward process that can be accomplished in just a few steps. Whether you need a physical copy of an important message for your records or to share with others, Gmail offers an easy way. Following the steps outlined in this article, you can quickly publish an email from Gmail and have a hard copy in hand whenever needed.
While we live in a world dominated by digital communication, there are times when a physical copy of an email is necessary or preferred. Thankfully, with Gmail's printing feature, you can easily bridge the gap between the digital and physical worlds.
Relevant Guides And Tips