Are you an iPhone user searching for the best free Ringtone apps for iPhone? You've come to the right spot because, in this article, I'll go through which free ringtone app for iPhone is the best in-depth. The good news is that most of these apps are free, so you won't have to spend any money on them.
Many apps in the various app store may not appeal to most customers. As a result, users are fed up with phony apps.
Furthermore, finding the best free Ringtone app for iPhone users is difficult because they must sync with iTunes to set the ringtone from the settings. We've compiled a list of the top 15 iPhone ringtone applications for 2023.
Also read: https://aishideas.com/cache-music-apps-for-iphone/
15 Best Ringtone Apps For Iphone
Below mentioned free ringtones apps will provide you free ringtones for iphone. Most of them are free to use while some of these ringtones app for iphone have premium version too. You can look for your own taste.
Let's explore the aishideas to discuss the 15 best ringtone apps.
1. DearMob iPhone M: best ringtone app for iPhone 2023
DearMob iPhone Manager is developed to provide the best free ringtone app for iPhone. Among the many tools available, DearMob stands out.
This free and feature-rich iPhone ringtone creator is defined most impressively by the ability to generate and personalize ringtones. It does so by using music files stored in multiple directories and playlists on your device.It is specialized for generating free ringtones for iphone.
It can save you from choosing from a dull set of built-in ringtones. You may effortlessly turn your favorite melody into a ringtone with a simple drag-and-drop.
This software supports file management, transfers, backup, conversion, sync, compression, and more, with a slew of functions.
What We Enjoy:
Simple User Interface for Managing Music Files and Making Ringtones
2. ZEDGE: best free ringtone app for iPhone 2023
Zedge is a ringtone app for iPhone that has offered free ringtones for iPhone. When you check the user reviews on the App Store, you'll notice the same thing!
It has a large variety of ringtones to suit everyone's mood. You can find anything that fits your musical tastes among the many genres. The app's tones are of excellent quality, and the layout is fun to use.
Another of Zedge's tremendous benefits is its extensive collection of HD wallpapers and tunes for the iPhone. The main drawback is that many tones, wallpapers, and functions are only available if you pay for them.
What We Enjoy:
Various artists have available images, wallpapers, icon sets, and NFTs.
What We don't Enjoy:
There aren't many good free features.
Ad placements that irritate you
Free (in-app purchases begin at $0.99).
The Ring app allows you to make free ringtones for iPhone. The software is only 20MB in size, so it downloads quickly. The program will enable you to make ringtones in any genre in seconds, right on your iPhone.

I like its extensive lessons that make using the program a pleasure. It also includes several editing options, such as fade-in and fade-out and extracting audio from any movie.
It contains the feature of mixing audio files and transcoding video and audio to Mp3 or Mp4. As a result, you'll be able to find exactly what you're looking for!
Because its music selection is comparably smaller, this might be the app to use if you require a personalized ringtone.
What We Enjoy:
The size of the software is small.
Quick response time
Impressive editing tools for beginners
What We don't Enjoy:
In the editor, there are no defaults or settings.
A more compact library
The software is free to download (in-app purchases start at $2.99).
4. Infinity: best free ringtone app for iPhone 2023
If none of the other apps on this list have yet to excite you, this one will! Infinity promises a premium experience by replacing your old iPhone ringtones with something fresh and engaging.
This program is relatively user-friendly. This free ringtone app for iPhone allows you to save and arrange your creations in the Favorites library for simple access
This app also includes copyrighted music from artists, with new songs being updated daily! There are songs in various genres, including Rock, Pop, Indie, R&B, Electronic, Country, etc.
Furthermore, new featured songs are added every day to keep you up to date on the hottest trends.
What We Enjoy:
Simple to use
High-quality content
Music with a license
Discover the most recent fashion trends.
What We don't Enjoy:
The premium version is a bit pricey.
The software is free to download (in-app purchases begin at $7.99).
5. Best Ringtones 2023: best free ringtone app for iPhone 2023
The 2023 upgrade to the Best Ringtones app is now out, bringing over 1000 ringtones into your hands. These songs have been organized into 25 categories, including Most Popular, Nature, Classical Music, Anime, Vintage, etc. It is specialized for generating free ringtones for iphone.
Despite the app's abundance of video advertisements, it is enjoyable. This program also allows you to customize your incoming call sound, SMS ringtone, and alarm sound. You have to save the song and set it as a ringtone on your phone.
What We Enjoy:
There are over 25 genres to choose from.
A fantastic compilation of entertaining songs.
Simple to use
A library that is constantly updated
We don't have:
Short advertisements are displayed.
The software is free to download (in-app purchases start at $2.99)
6. RingTune: best free ringtone app for iPhone 2023
RingTune is the best ringtone app for iPhone, with the most features, flexibility, and ease of use. You can search for and download famous ringtones from various categories.
You can also edit all of your previous ringtones in the "My Tones" collection. It also functions as a wallpaper app, allowing you to add attractive photographs to your lock screen. This program can also be used to make live backgrounds from videos. Isn't it fantastic?
Get this fantastic two-in-one software to change the look and sound of your iPhone completely! However, one of the only drawbacks is that it has a bunch of new advertisements, which detracts from the user experience.
What We Enjoy:
Ringtones that are unique to you
a large library
Wallpapers of excellent quality
Live wallpapers can be customized.
What We don't Enjoy:
There are numerous advertisements.
Many functions are available for a fee.
The software is free to download (in-app purchases start at $2.99).
7. TUUNES: best free ringtone app for iPhone 2023
TUNES is one of the most well-known and widely used best ringtone app for iphone. This software contains an extensive library of ringtones and reminder tones covering various tastes. Furthermore, the creators constantly upgrade it with new songs to appeal to multiple tastes.
The app includes over 10,000 licensed tunes that you can download for free. The most significant part is that there aren't many advertisements! This app also allows you to create custom ringtones. However, the procedure is less user-friendly than the prior app. Your imagination will run wild with this software!
You may search by author, genre, category, or ringtone tag. It will help you quickly listen to audio samples to pick your favorite ringtone.
What We Enjoy:
An extensive song library is available.
Fewer advertisements and faster song previews
Content that is constantly updated
Ringtones can be shared with friends.
What We don't Enjoy:
There's a good chance you'll come across a lot of bugs.
Free (in-app purchases begin at $9.99)
Ringtones for iPhone is software that allows you to create your ringtones. The software offers the most satisfactory experience possible, with various features to help you make the perfect ringtone.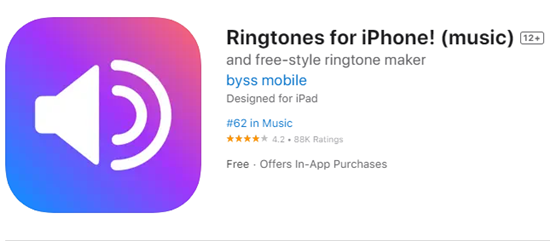 You may quickly transform voices and sounds into tones by recording them.
Other audio can be imported and edited. Setting the start and stop markers, altering pitch, bass, and different settings include on their tool.
Their tool also includes delivering slightly more professional features like fade in and out. You don't need anything else but this software to make a free custom ringtone in minutes!
What We Enjoy:
Simple to use
Integrated recorder with a comprehensive and competent editor
Share your ringtones with your friends on social media.
What We don't Enjoy:
There aren't many settings.
Free (in-app purchases begin at $0.99).
This software has been around for over four years and has established itself as one of the top ringtone apps for iPhone in 2021.
There are over 500,000 free tones and warnings available! The music genres are carefully organized in a comprehensive list. Blues, Alternative, Children, Country, Christian & Gospel, and many others are among them.
But it's not just about picking a ringtone from their library; you can also use your imagination and create your own! It includes a simple editing platform that lets you mix, match, clip, and edit your way to a custom ringtone for your phone.
What We Enjoy:
The user interface is simple and easy to use.
What We don't Enjoy:
It has insufficient space.
10. Cool Ringtones: Ringtone Maker: best free ringtone app for iPhone 2023
Cool Ringtones is a free ringtone creation software for the iPhone that can be downloaded from the App Store. It has a large number of entertaining tunes and sound effects.
The app also includes sections depending on holidays throughout the year, a unique feature. So, if you want to terrify your pals with a Halloween-themed ringtone, this is it!
Not only that, but if you have a creative streak, you can make your tones from tunes saved on your iPhone. You may personalize a wide range of styles, including alarm clock tones, email, SMS, voicemail notifications, and tweet tones! That's cool!
What We Enjoy:
Ringtones of excellent quality
Numerous tunes can be customized.
A never-ending music library
What We don't Enjoy:
Ringtones HD is a cutting-edge ringtones application. The ringtone categories in this app are the standout feature, as they are creatively distinct from those in other apps. You can choose from various genres, including scary, funny, geeky, and even thriller.
The options are limitless! And the combination of categories ensures that no one's music is overlooked. It's most likely in here if you have a choice.
With Ringtones HD, you can customize anything from your ringtone to calendar notifications, SMS alerts, etc. You don't even need a computer. If you like iTunes, this program gives you a lot of possibilities for making ringtones from your local iTunes library.
Unlike other ringtone generator apps, Ringtones HD also offers weekly Premium membership passes, an excellent relief.
What We Enjoy:
Updates regularly
Categories that are both innovative and entertaining
What We don't Enjoy:
The advanced features must be purchased.
12. Ringtone Maker: best free ringtone app for iPhone 2023
The Ring App is a shelter for creative people that want to produce their ringtones for no cost. The software allows you to create personalized ringtones without using a computer.
The editor is simple to use and has a tidy interface. And, most crucially (because you have more important things to do, such as play Fortnite). You can create a personalized ringtone in only a few minutes.
One feature that distinguishes it from other iPhone ringtone apps is the ability to extract audio from a video you've uploaded. That's a challenging move! Because the Ring App is only 10MB. You won't have to choose between the sticker maker app that bothers your pals and this!
What We Enjoy:
Simple
It is entirely free.
Space-saving
What We don't Enjoy:
GarageBand is also required
13. Ringtones for iPhone- Ringtones-Pro:
It's possible that you have a unique bug inside you, and the best way to release it is to make your ringtone. While we applaud your initiative, we encourage you to check out the Ringtones For iPhone! App, which is available for free on the App Store.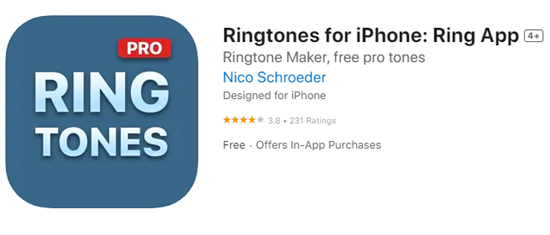 Even if you have a student's learning ability pretending to comprehend algebra, you can pick it up in no time. Please accept our heartfelt apologies if that was too much for you.
All of your tunes and edits are saved in a separate section called "My Tones," which you may access whenever you need them. We haven't even gotten to the most exciting part yet! iPhone Ringtones are a great way to express yourself.
It is also a fantastic wallpaper app. Isn't that true? Have the ability to change the boring ringtone and monotonous wallpaper with only one app? It's a definite winner.
What We Enjoy:
The interface is straightforward to use.
It's a two-in-one app because it also has wallpapers.
What We Don't Like:
There are too many pop-ups.
Glitches occur from time to time.
14. New Text Tones: best free ringtone app for iPhone 2023
Additional Text Tones is a fantastic software that provides iPhone users with over 100 new text tones. There are approximately 15 different text tone categories to pick from.
This program allows you to create personalized ringtones for each of your friends. Loud text tones, quiet text tones, amusing text tones, and other types of text tones are among the most popular. You have complete freedom to download as many ringtones as you want.
What We Enjoy:
31.2 MB in size
Set a unique text tone for each of your friends.
There are almost 100 new text tones.
Downloads are unrestricted.
Waltr pro offers you much more than a pre-chosen library of ringtones. You may convert files into the necessary format. You can download any file within the three clicks limit and use it as ringtones.
With waltr pro, you can download anything from the web without subscribing to it. Its subscription includes all in-build opportunities. Hence it is not necessary to pay for each transferred file. Each type of file will convert into an iPhone-supported format automatically.
Conclusion:
These ringtones apps for iphone are specialised for generating ringtones for iphone. We have presented you with the best app for this purpose. Some of them also have paid versions.
Hope you have enjoyed it.